Welcome to the website of Robin Ince, comedian, writer and that sort of thing. Twitter @robinince. Robin's agents: noelgay.com
For live event booking enquiries, email warren@lakinmccarthy.com or call 020 8530 5179.
THE INFINITE MONKEY CAGE
NEW SERIES STARTS 24TH OF JUNE
Robin and Brian's BBC Radio 4 comedy/science series is recording now (check the show's twitter feed for any ticket info, guest leaks and festival appearance details) and will broadcast starting the 24th of June. Downloads from the last series are still available, as for most old episodes.

Programme homepage has more info, and more downloads are at TIMC Podcast Page, including iTunes subscription. Twitter is @themonkeycage.
HAPPINESS THROUGH SCIENCE
2012 TOUR DVD NOW AVAILABLE
BRIAN COX COMMENTARY!

The DVD from last year's tour has been distilled, ready for diffusion into your habitat, complete with extras and a full commentry track from Robin, joined by Brian Cox. Available now at www.gofasterstripe.com.
NEW BLOG ENTRIES
More new blogs recently, including thoughts on working on TV and being a free-thinking atheist: robinince.wordpress.com
NEW STATESMAN
EDITED BY BRIAN AND ROBIN

Brian and Robin have guest-edited a special Christmas edition of New Statesman magazine. Read their nice article here, with a link to the full edition at the bottom.
MORE 9 LESSONS AND CAROLS
2011 DVD AVAILABLE

The 2011 Christmas science, comedy and music show is now available at www.gofasterstripe.com.
UTTER SHAMBLES: SERIES 4
EXCLUSIVE EXTENDED EDITIONS
STEWART LEE
Robin and Josie Long chat with Stewart Lee about alternative comedy, in episode 3 of series 4. Comedy Central are doing longer versions than iTunes, also available earlier. Find them on Comedy Central, (download link in text) or go straight to all 4 series' download page here.

Alternatively, search iTunes for "Robin and Josie's Utter Shambles" (latest is episode 19, 20 should trickle through eventually, but it won't be the extended edition...)
"ROBIN INCE'S BAD BOOK CLUB"
ISBN 978-0-7515-4213-4
PAPERBACK OR KINDLE
Reprinted again... paperback or Kindle. Robin's guide to the world's worst inadvertently hilarious books. Order at places like amazon.co.uk. Complete with excerpts from a lot of badly good books, including some crabs.
THE INFINITE MONKEY CAGE
WINS CHORTLE RADIO AWARD
Congrats to everyone at The Infinite Monkey Cage, (the BBC Radio 4 light-hearted science series presented by Robin and Brian Cox), and thanks to all who voted.
TED TALK AFTERMATH
Robin has done a little blog for TED, about the process of being a speaker at TED, here.
10 LESSONS AND CAROLS FOR GODLESS PEOPLE
2010 CD AVAILABLE

The 2010 Christmas science, comedy and music show is now available at www.gofasterstripe.com. Stay tuned for news of the 2011 show recordings.
TED TALK ONLINE
Robin's TED Global talk in Edinburgh is at ted.com here.
9 LESSONS CHRISTMAS SHOW 2008
DVD AVAILABLE NOW!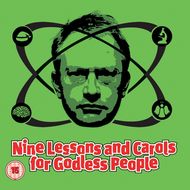 The original Chortle Award winning show from 2008 has been released by Go Faster Stripe. Order now at www.gofasterstripe.com
"Robin Ince is as Dumb as You" DVD Released
After much anticipation, the "Robin Ince is as Dumb as You" DVD is now available, featuring a 1 hour 9 minute stand-up show, shot at Cardiff's Chapter Arts Centre. Also features Martin White on accordion, and 2 hours and 9 minutes of commentary by Robin and school friend Ed Dyson, (this is not a misprint, they comment exhaustively on the extras as well). Produced by the excellent GoFasterStripe team.
Order now at www.gofasterstripe.com