Welcome to the website of Robin Ince, comedian, writer and that sort of thing. Twitter @robinince. Robin's agents: noelgay.com
or for live event booking enquiries, email warren@lakinmccarthy.com / call 01359 230 483.
BLOGTASTIC
Robin is blogging about lots of things, like books, art exhibitions and theatre. Old ones are up at robinince.wordpress.com but new ones will be moving over to Cosmic Shambles, see below!
COSMICSHAMBLES.COM NOW LIVE!
The Cosmic Shambles Network is the new home of many of the creations of Robin and friends, bringing together science tours, podcasts, video contributions and blog features. Dig in and enjoy now, over at cosmicshambles.com.
THE INFINITE MONKEY CAGE
NEW SERIES ON NOW
Brian and Robin continue their witty, irreverent look at the world through scientists' eyes. BBC Radio 4 Mondays at 4:30pm, or online (advance episodes available before broadcast, then extended versions after broadcast). This series so far:

The Science of Everyday Life
How to Beat the House and Win at Games
Science's Epic Fails
Oceans: What Remains to be Discovered
The Human Story: How We Got Here and Why We Survived

Programme homepage has more info.
THE SCIENCE OF DR SEUSS
BBC Radio 4: Robin enters the wonderful wacky world of Dr Seuss, and uncovers some surprising real world science hidden within these childhood classics. He's joined by scientists and fellow Seuss fans Sophie Scott, Andrea Sella, Mark Miodownick and Adam Rutherford who reveal some of the very real scientific ideas hiding within the seemingly nonsensical worlds and rhymes of Dr Seuss. Find it here
BOOK SHAMBLES CHRISTMAS SPECIAL
FEATURING MOST OF THE COMPENDIUM CAST!
Book Shambles podcast (see entry below) has a Christmas special with thoughts from many of the cast of the 2016 Apollo show, including Simon Le Bon, Chris Hadfield, Brian Cox, Sophie Ellis-Bextor, Ben Goldacre, Helen Czerski and many more! Find it at cosmicgenome.com/shambles
THE ENTIRE UNIVERSE!
UP NOW ON IPLAYER
What would happen if a Brian Cox lecture was interrupted by an Eric Idle and Arlene Phillips musical starring Noel Fielding, Warwick Davis and Hannah Waddingham? Tune in to find out. Robin also pops up. Watch again on BBC iPlayer.
COSMIC SHAMBLES LIVE!
AUS / NZ TOUR 2017
The Cosmic Shambles LIVE variety show will be travelling across Australia and New Zealand in March/April 2017, with many local acts and scientists being incorporated into the show. All info at cosmicshambleslive.com.
ROBIN AND JOSIE'S BOOK SHAMBLES
SEASON 4 ON NOW: ALAN MOORE
NOEL FIELDING
SARAH BAKEWELL
SIMON INGS
HELEN CZERSKI
NICK OFFERMAN
ALEXEI SAYLE
NAT LUURTSEMA
JOHN DOWIE
JANNE TELLER
RALF LITTLE
CHRISTMAS SPECIAL
ALICE LOWE
ALICE ROBERTS
PHILIP RIDLEY
JAMES ACASTER
JOHANN HARI
KATE WILLIAMS
+ PATREON SUPPORTERS EXTRAS
Robin and Josie Long are making podcasts together, and want to make them really good. If you've enjoyed them in the past and want to give them some jingle to help make more happen, donate here.

There are now many special treats for supporters, including a mini-episode, bonus episodes (inluding a long Alan Moore extra) and the chance to win a pile of Robin's hand picked books. Links should be available using your Patreon login here.

So far three series are complete, plus Christmas special, Jon Ronson special, and Series 4 is underway. Find them HERE, with SoundCloud, RSS and iTunes options. Reading lists now up there as well. Previous seasons (still available for download) included the likes of Dean Burnett, Lisa Dwan, Eddie Izzard, Reece Shearsmith, A.L. Kennedy, Charlotte Church and Natalie Haynes.
NEW: "LAST" EVER SHOW
£15 DVD / £7 DOWNLOAD

This double-DVD or instant download contains an incredible 6 hours+ of material from a set of shows to round up Robin's full-time touring lifesyle. More info over at www.gofasterstripe.com.
THE INFINITE MONKEY CAGE
SUMMER SERIES DOWNLOADS UP
Brian and Robin continue their witty, irreverent look at the world through scientists' eyes. All summer episodes now up: Glastonbury musical special, how to build a Universe, the science of sleep, battle of the sexes, Frankenstein and a Universe special live from the stage of Blue Dot festival.

Programme homepage has more info., and more downloads INCLUDING LONG EDITS are at TIMC Podcast Page iTunes and other subscriptions linked from there as well. Twitter is @themonkeycage.
VITRIOLA PODCAST No. 50!
WITH MICHAEL LEGGE
Robin and Michael Legge and some others have now done 50 of their "enthusiastic" music podcasts. Two old men talking about music and trying to convince you to start buying records again. Find them on itunes or soundcloud.
ROBIN AND BRIAN'S
CHRISTMAS COMPENDIUM 2016
Robin and Brian keep surpassing themselves with their seldom announced but always enjoyed list of contributors scientific, comedic and musical. (Former closing bands include The Cure and New Order!). This year it's 1 night only. More info and tickets here.
QUEST FOR WONDER!
FINAL EPISODE 6 NOW LIVE
(WITH SPECIAL GUEST)
The Incomplete Map of the Cosmic Genome in association with the Science Museum are proud to announce a brand new 6 episode mini series, The Quest For Wonder starring Professor Brian Cox and Robin Ince and their puppet counterparts.

The show is a fun-filled caper through the world of science that is sure to delight both children and adults alike. More info here. Episode 6 is now up: "To The Moon!", with a special felt guest...
NEW BBC WORLD SERVICE DOC:
NEANDERTHAL GENES
What does the DNA of our closest ancestors tell us about ourselves? Professor Svante Paabo is director of the Max Planck Institute for Evolutionary Anthropology and he tells Robin Ince about being one of the first people in the world to start looking at ancient DNA. Find it here.
ROBIN AND BRIAN COX
2 PART RELATIVITY RADIO 4 DOC
SECOND PART NOW AVAILABLE
To celebrate the 100th anniversary of its publication, Brian Cox and the world's leading cosmologists take Robin on a guided tour of Einstein's Theory of General Relativity. Find it here.
ROBIN'S RADIO 4 SHORT STORY
Robin has done a little short story inspired by the Theory of Relativity: 'Thoughts While Plummeting'. Find it here. The podcast drops the first few lines of the story, so you can find the full text version here.
RICHARD HERRING LEICESTER SQUARE
THEATRE PODCAST, (RHLSTP) WITH ROBIN
At last, Richard Herring has got round to interviewing Robin for his delightful podcast series. Many nuggets of joy contained... YouTube vid here.
TEDX SALFORD TALK ONLINE
Robin's TEDx Salford talk (curiosity as an act of rebellion) is up on YouTube here.
COSMIC GENOME

Robin and his science chums have been beavering away creating a stream of conciousness for the curious mind, direct to your iPad and now across all platforms. It's called "the incomplete map of the cosmic genome", and features lots of videos from the heroes of wonder, with regularly updated content filtering through nicely. Mind nutrition is now ready for digestion. More info over at cosmicgenome.com Twitter is @cosmicgenome.
BBC RADIO 4 DOC
HOLLOW EARTH: A TRAVEL GUIDE
IPLAYER NOW AVAILABLE
Robin takes us on a tour of a world beneath the earth's crust, exploring the history of Hollow Earth theory through literature, legend and scientific theory. Contributions from Alan Moore, Rudy Rucker, Prof Francesca Stavrakopoulou and more.

Find it here.
ROBIN AND JOSIE ARE BACK:
COSMIC SHAMBLES PODCAST
Robin and Josie Long continue their shambolic podcast over at their new home at the Cosmic Genome. Brian Cox also pops in to the first one!

Soundcloud or iTunes link now available here.
BBC RADIO 4 DOC
TEARS OF A CLOWN
IPLAYER NOW AVAILABLE
How true is the image of the melancholy comedian? While the lives of Kenneth Williams, Tony Hancock and Spike Milligan are raked over with new books and documentaries appearing on a yearly basis, hundreds of comedians seemingly live and perform without facing anxiety that reaches clinical levels.

Is comedy just like every other profession, or is there a need for some loss or pain in childhood to create the outsider who wishes to spend each night making themselves face one of the top three fears of human beings, public speaking?

Find it here.
DEAD FUNNY BOOK IS OUT
Robin and Johnny Mains team up for this unique exploration of the relationship between comedy and horror to see if they do, as believed, make the most comfortable of bedfellows. Find it here.
LISTEN AGAIN TO ROBIN'S
BBC RADIO 4 DOC
HEAL THYSELF (SELF HELP)
Robin did a 3 part series on the history of the self help movement. Find it here.
NEW: LEAST WORST DVD

There's a new DVD just out: "The Very Least Worst of Robin Ince", a compilation of all kinds of thoughts that never made it on tour, including the likes of Edinburgh gigs over the years. There's some technical trickery which means every time you play the disc, the 23 chapters change order, and lucky customers might get a copy with a completely different title on the sleeve and disc! More details over at www.gofasterstripe.com.
TEDX DUBLIN TALK UP
Robin's enthusiastic talk from TEDx in Dublin is up on YouTube here.
HAPPINESS THROUGH SCIENCE
2012 TOUR DVD NOW AVAILABLE
BRIAN COX COMMENTARY!

The DVD from last year's tour has been distilled, ready for diffusion into your habitat, complete with extras and a full commentry track from Robin, joined by Brian Cox. Available now at www.gofasterstripe.com.
NEW STATESMAN
EDITED BY BRIAN AND ROBIN

Brian and Robin have guest-edited a special Christmas edition of New Statesman magazine. Read their nice article here, with a link to the full edition at the bottom.
MORE 9 LESSONS AND CAROLS
2011 DVD AVAILABLE

The 2011 Christmas science, comedy and music show is now available at www.gofasterstripe.com.
UTTER SHAMBLES: SERIES 4
EXCLUSIVE EXTENDED EDITIONS
STEWART LEE
Robin and Josie Long chat with Stewart Lee about alternative comedy, in episode 3 of series 4. Comedy Central are doing longer versions than iTunes, also available earlier. Find them on Comedy Central, (download link in text) or go straight to all 4 series' download page here.

Alternatively, search iTunes for "Robin and Josie's Utter Shambles" (latest is episode 19, 20 should trickle through eventually, but it won't be the extended edition...)
"ROBIN INCE'S BAD BOOK CLUB"
ISBN 978-0-7515-4213-4
PAPERBACK OR KINDLE
Reprinted again... paperback or Kindle. Robin's guide to the world's worst inadvertently hilarious books. Order at places like amazon.co.uk. Complete with excerpts from a lot of badly good books, including some crabs.
THE INFINITE MONKEY CAGE
WINS CHORTLE RADIO AWARD
Congrats to everyone at The Infinite Monkey Cage, (the BBC Radio 4 light-hearted science series presented by Robin and Brian Cox), and thanks to all who voted.
TED TALK AFTERMATH
Robin has done a little blog for TED, about the process of being a speaker at TED, here.
10 LESSONS AND CAROLS FOR GODLESS PEOPLE
2010 CD AVAILABLE

The 2010 Christmas science, comedy and music show is now available at www.gofasterstripe.com. Stay tuned for news of the 2011 show recordings.
TED TALK ONLINE
Robin's TED Global talk in Edinburgh is at ted.com here.
9 LESSONS CHRISTMAS SHOW 2008
DVD AVAILABLE NOW!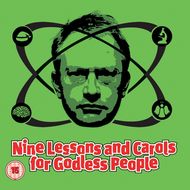 The original Chortle Award winning show from 2008 has been released by Go Faster Stripe. Order now at www.gofasterstripe.com
"Robin Ince is as Dumb as You" DVD Released
After much anticipation, the "Robin Ince is as Dumb as You" DVD is now available, featuring a 1 hour 9 minute stand-up show, shot at Cardiff's Chapter Arts Centre. Also features Martin White on accordion, and 2 hours and 9 minutes of commentary by Robin and school friend Ed Dyson, (this is not a misprint, they comment exhaustively on the extras as well). Produced by the excellent GoFasterStripe team.
Order now at www.gofasterstripe.com